Retail News Directory
Can you afford to miss the opportunity of 12 months exposure to your target market in hard copy and online @ www.retailnews.ie ?
The Directory provides the FMCG retailer with comprehensive buyers, drinks & services guides, plus Cash & Carry and Retail Group listings. It also features a convenient cross-referenced brand index of products.

RETAIL NEWS DIRECTORY is sent free of charge to the Multiple, Independent and Symbol Group retailers, e.g. .Tesco, Dunnes, SuperValu, Centra, Spar, Londis, Mace, Gala, Costcutter, as well as the Forecourt Retailers and off-licences.
RETAIL NEWS DIRECTORY reaches major Cash & Carry's, Distributors and Wholesalers in Ireland, e.g. Musgrave, Stonehouse, Value Centre etc.
RETAIL NEWS DIRECTORY also circulates to the Retail Buyers, the Suppliers to the FMCG market, Financial, Government and EU departments together with relevant media serving the trade.
RETAIL NEWS DIRECTORY published in Spring 2015 offers an advertising opportunity as a commercial proposition and as a practical method of generating goodwill within the FMCG sector.
RETAIL NEWS DIRECTORY will contain reference information that the trade needs to refer to frequently. This comprehensive directory will include a cross referenced Brand Index, Buyers Guide, Drinks Guide, Service Guide, Retail Group and C&C Guide.
RETAIL NEWS DIRECTORY is also available online at www.retailnews.ie ­ where retailers and buyers can access and search the most comprehensive cross-referenced FMCG supply directory and brand index in the country.
Website Stats: Unique visitors of over 8,000 and an average of 250,000 hits a month.

Retail News Directory Sample Listings
No. 1 - Standard Company Listing (includes on-line listing)
€395 + VAT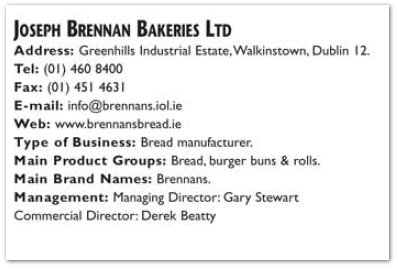 No. 2 - Enhanced Company Listing & Logo (includes on-line logo listing)
€495 + VAT
Framing your complete logo & listing will highlight your listing even further and immediately catch the buyers eye.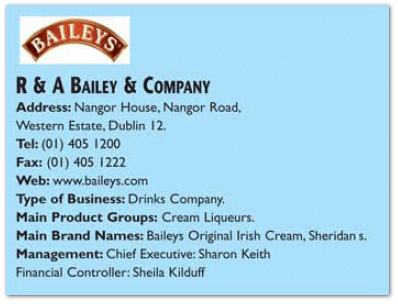 No. 3 - Enhanced Company Listing with Logo & Product Image (includes on-line logo listing)
€550 + VAT
CAN YOU AFFORD TO MISS 12 MONTHS EXPOSURE TO YOUR TARGET MARKET?
News & Views